Are you looking for a better and more secured way of saving your hard-earned money? Instead of splurging on temporary luxuries, it is wise to take advantage of the Social Security System Personal Equity and Savings Option (PESO) Fund instead.
The SSS PESO Fund is a voluntary provident fund that SSS members can enroll to in addition to the regular SSS Program. If you have the capacity to provide more than your monthly set contribution, this is a perfect opportunity to save more in order to receive more benefits in the future.
The SSS PESO FUND is a good investment rather than simply depositing your money in a bank. Both your earnings and benefits are tax-free. Contributions are placed in sovereign guaranteed investments and guaranteed earnings.
Here is a sample computation of an SSS PESO fund investment vs. Savings Account Deposit: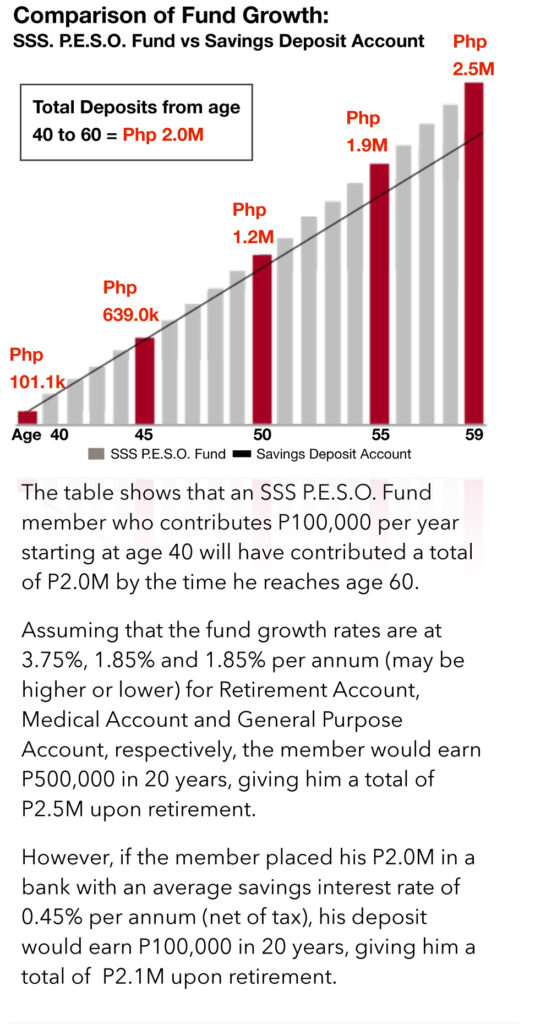 Interested to join and invest your money in the SSS PESO Fund? Here are the qualifications that you need to meet:

Employed, Self-Employed (SE), Voluntary (VM) and OFW members
Below 55 years old
Have paid contributions in the regular SSS program for at least six (6) consecutive months within the 12-month period immediately prior to the month of enrollment.
SE, VM and OFW members should be paying the maximum amount of contributions under the regular SSS program.
Have not filed any final claim under the regular SSS program.
If you met the qualifications, you may enroll in the program by visiting any SSS branch or registering via My.SSS web portal.
The date of your membership will begin during your first contribution to the PESO fund. You can pay a minimum of Php1,000 per contribution and a maximum of Php100,000 per annum.
Savings in the SSS Peso Fund are invested in sovereign-guaranteed investments, where 65 percent of the total fund is allocated for retirement, and 35 percent is for medical and general purposes. The portion for retirement is guaranteed to earn income based on interest rates of five-year Treasury yields, while earnings of the fund allotted for medical and general purposes will be based on 364-day Treasury bill rates.
The member will receive benefits upon filing a retirement, total disability or death claim under the regular SSS program. Retirement or total disability benefits, which consist of the member's contributions and earnings from the SSS P.E.S.O. Fund, may opt to receive this in monthly pension, lump sum or a combination of both. Meanwhile, death benefits shall be paid in lump sum to the member's beneficiaries.