The public can now voice out their concerns about the Social Amelioration Program (SAP) thru the newly launched site "uSAPtayo". The Department of Social and Welfare Development (DSWD) provided the online portal to enable the public to learn more about the subsidy program mandated by the Bayanihan to Heal as One-Act.
On a statement by DSWD Secretary Rolando Bautista, it was developed with the help of the technical support of the World Bank and the Australian government. It will also be accessible 24/7 along with their hotlines and various social media accounts.
Any grievances received by the platform either from a call or online will be encoded and a reference number will occur for follow-ups and progress of the filed assessment. The web page is the agency's response to usual feedbacks such as delays of distribution of cash assistance, ineligibility of qualified beneficiaries, and violations in the process of allocating benefits.
Throughout the implementation of SAP, there are numerous concerns from citizens indicating that they need to have an efficient process.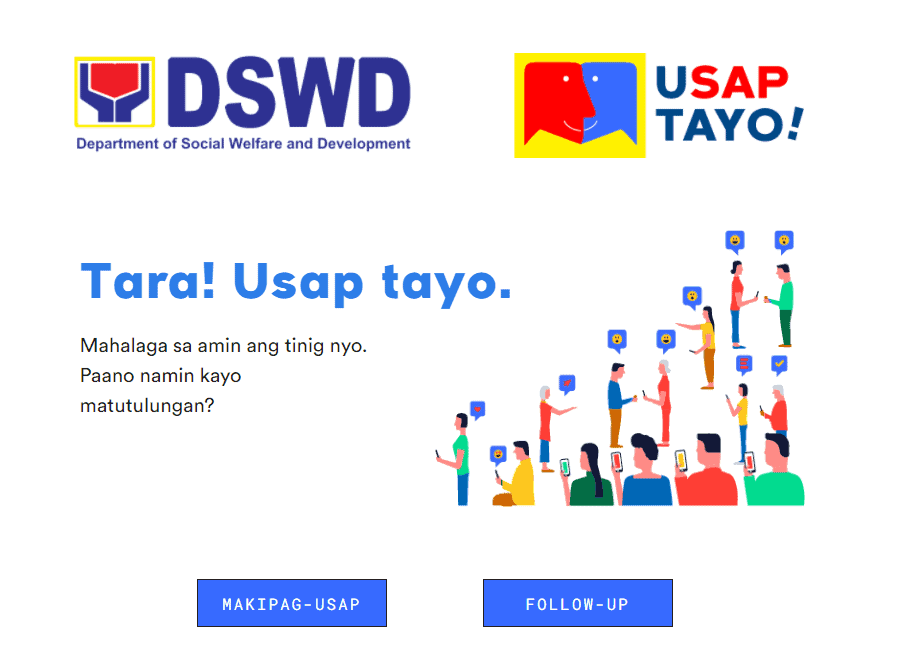 Here are the four steps to use the platform:
Visit the website http://usaptayo.dswd.gov.ph
Click the "Makipag-usap" button.
Write the needed information then upload documents as proof.
Choose "Submit"
Users will have an option to use English or Filipino for their convenience.  For follow-ups, they can use the same procedure however they will need to provide the number that was given to them.
Grievance officers process each report within three days while complex complaints will be referred to other authorities. This a good step from DSWD to improve their services. It is important that they can listen to people's opinions so that they can regain their trust.
On the other hand, DSWD Spokesperson Irene Dumlao stated that they are going to use the remaining funds from the second tranche of SAP to help other government agencies. The Department of Labor and Employment (DOLE), Department of Agriculture's (DA) aid for farmers and Tulong Panghanapbuhay para sa Displaced/ Disadvantaged Workers (TUPAD) will profit from these who were severely affected by the ongoing novel coronavirus.
Related: 2nd tranche DSWD in full blast
She also revealed that the Department of Finance (DoF) will release information about this matter. As the main implementer of SAP, Dumlao believes that a significant amount will be left since they trimmed down the number of families from 17 million to 14.1 million.
For more information, the public can visit the department's field offices or send an email at [email protected] or [email protected]. They can also call at 0932-933-3251, 0916-247-1194 and 0947-482-2864. Additionally, they have Facebook, Twitter and Instagram with a username @dswdserves.
Related: DSWD website and app for SAP registration