The pending registration of the Philippine ID System (PhilSys) since last year is over, As of today April 30 the Philippines Statistics Authority (PSA) started the online registration for the Philippine Identification System (PhilSys).
As announced there are only 3 steps in registering and getting your National ID.
The First step is for Applicants to register their demographic information in PSA's online portal for national ID registration. This includes information such as:
(scroll to end for registration site)
*Full name
*Sex
*Date and place of birth
*Blood type
*Address
Optional information like marital status, mobile number, and email address will also be collected.
After inputting these details, applicants can proceed to set an appointment in the nearest physical registration center for the second step.
Reminder: Prepare the required documents and bring them when you attend your appointment.
Second step is to have Biometric information including fingerprint, iris scan, and photograph to be taken in the registration center during your appointment.
The supporting documents will also be validated on-site.
Third step is the Issuance of the PhilSys Number (PSN) and PhilID.
"Ang inyong PSN at PhilID ay ide-deliver ng PHLPost sa inyong tahanan! Paalala lamang po na huwag i-post sa social media ang inyong PhilID dahil ito ay naglalaman ng inyong personal na impormasyon," said PSA in an online post.
Where are the physical registration centers?
The PSA explained that it would set up fixed and mobile registration centers in strategic locations.
For more information visit the link below to register on PhilSys Official website.
————————————————————————————————————————————————————————————————
"Starting October, we can start the house-to-house pre-registration. There will be an appointment system in which you will only go to registration centers for the biometrics," said Chua in an interview with DWIZ last Saturday.
When the National Identification Card (National ID) was announced years ago, many Filipino citizens are already looking forward to being part of this newly-implemented ID.
The Philippine Statistics Authority (PSA) reported that this last July of 2020, they will start the enrollment of National ID in the National Capital Region (NCR). Thus, they are looking at a projection that in 2022, the 107 million population of the Philippine will all have their Phil ID.
The transition from Pilot Registration
Last September 2019 the PSA has been extensively implementing test registration on the PhilSys ID. This is to guarantee that before making it available to the general public, they were able to address all issue(s) that may arise including but not limited to duplication of individuals registered in the system, security, and stability of the system.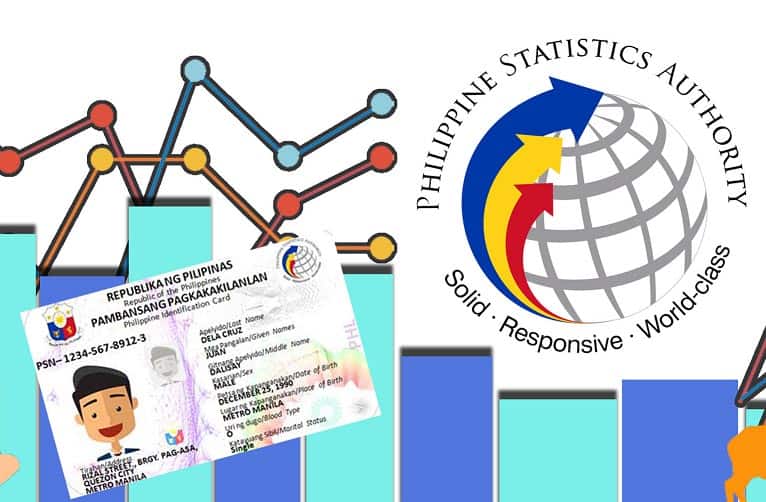 After this, they would start implementing the operations on Calabarzon and Central Luzon. For Overseas Filipino Workers (OFWs), registration is expected to roll out on mid-year of 2021. It should be noted that these processes initially conducted by the PSA, no matter how rigorous it can be, are for the reasons that the following information should be safely stored in the system:
First Name, Middle Name, and Last Name
PhilSys ID Unique Number
Photo
Sex
Blood Type
Permanent Address
Requirements and Process of National ID Application
In accordance to the Implementing Rules and Regulations (IRR) of the Republic Act No. 11095 also known as the Philippine Identification System (PhilSys) Act of 2018,  here is the process of applying for a National ID:
Application Form (Registration Form No. 1)
Original Copy of any of the following:
PSA-issued birth certificate;
One (1) government-issued ID;
Philippine Passport; or
Unified Multi-purpose Identification (UMID) Card
Proceed to any of the Registration Centers:
PSA Regional and Provincial Offices;
Local Civil Registry Offices (LCROs);
Government Service Insurance System (GSIS) for its members and their dependents;
Social Security System (SSS) for its members and their dependents;
Philippine Health Insurance Corporation (PhilHealth) for its members and their dependents;
Home Development Mutual Fund (HDMF) or Pag-IBIG;
Commission on Election (COMELEC);
Philippine Postal Corporation (PHILPost); or
Other government agencies and GOCCS to be determined by PSA
Biometric information of the applicant such as fingerprints, iris scan shall be secured except for applicants below five (5) years of age.
A PhilSys Number (PSN) will be generated for the applicant.
After securing PSN, an official National ID will be released.
Registration Fee
Enrolling for a National ID shall be free for initial application. However, soon PSA will advise fees for (1) application, issuance, and renewal of Phil ID for resident aliens as well as (2) replacement of the ID to citizens and aliens due to loss, damage, or change of entries.
Such fees won't be applicable for individuals who will be able to present Certificate of Indigence issued by the City/Municipal Social Welfare Office
Request for Changes in PhilSys Data
To change Name, Gender, Date or Place of Birth, Marital Status
Fill out Correction Form at identified Registration Centers
Submission of Birth or Marriage Certificate
Verification of identity through biometric authentication
Change Citizenship
Fill out Correction Form at identified Registration Centers
Submit necessary documents
Verification of identity through biometric authentication
Change in address, mobile number or e-mail address
Fill out Correction Form either through the Registration Center of web-based portal of the PSA
An One Time Password (OTP) will be provided to the person
A facial recognition will be required for biometric authentication
For minors or persons with disability (PWD) that aren't capable to provide consent
A PhilSys-registered parent or guardian should be present to approve access to service required.
To change typographical errors and/or update biometric data
Provisions on the IRR Section 12 of the PhilSys Act shall prevail for this change(s).
Advantages of PhilSys ID
You can use the Phil ID as valid document or proof identity for the following:
Acquiring benefits and/or services from the government (e.g. SSS, GSIS, Phil Health, Pag-IBIG)
Voter Registration
Application for Driver's License
Application for travel visa and passport
Application in schools, universities, learning centers for students; or
Opening of bank accounts or application on other transactions
National ID in most countries have long been implemented and it has seen to provide ease on acquiring services and eligibility requirements. Definitely, this should bring quality outcome among the Filipinos. Source1 Source2 Source3
PhilSys National ID Official Site registration.