For a successful and relaxing vacation, it is a necessity to plan things thoroughly. Make sure your destination has been well-thought of, researched, and decided.  But most importantly, make sure to choose the best date for your travel.
As early as now, you can start planning for your perfect getaway. President Rodrigo Duterte has officially signed Proclamation No. 845 declaring the country's ten regular and seven special non-working holidays. File your vacation leaves early for the much-anticipated long weekends, and get ready to purchase that promo flight tickets for the following dates below.
Here is the list of Regular Philippine holidays in 2020.
 New Year's Day                        January 1
Araw ng Kagitingan                April 9
Maundy Thursday                  April 9
Good Friday                           April 10
Labor Day                              May 1 (Friday)
Independence Day                June 12 (Friday)
National Heroes Day             August 31 (Monday)
Bonifacio Day                        Nov 30 (Monday)
Christmas Day                       Dec 25 (Friday)
Rizal Day                               Dec 30 (Wed)
Here is the list of Special (non-working) days in 2020
Chinese New Year                    January 25 (Sat)
EDSA People Power Anniv      Feb 25 (Tue)
Black Saturday                         April 11
Ninoy Aquino Day                    August 21 (Fri)
All Saint's Day                          November 1 (Sun)
Immaculate Conception           Dec 8 (Tue)
Last Day of the year                 Dec 31 (Thu)
Additional Special (non-working) days:   November 2 and December 24.
Meanwhile, the observance of Muslim Holidays Eidl Fitr and Eidl Hada shall be announced after their approximate dates have been determined by the Islamic Calendar and proclaimed by the National Commission on Muslim Filipinos (NCMF).
The first long weekend will be later this year from December 28,2019 to January 1, 2020. It covers two regular holidays (New Year's Day and Rizal Day) and one special non-working day (Last day of the year).
Here are the other long weekends for 2020
February 22 to 25, 2020 (EDSA Anniversary weekend)
April 9 to 12, 2020 (Araw ng Kagitingan and Holy Week)
May 1 to 3, 2020 (Labor Day weekend)
June 12 to 14, 2020 (Independence Day weekend)
August 21 to 23, 2020 (Ninoy Aquino Day)
August 29 to 31, 2020 (National Heroes' Day weekend)
October 31, 2020, to November 2, 2020 (All Saints/Souls' Day weekend)
November 28 to 30, 2020 (Bonifacio Day weekend)
December 5 to 8, 2020 (Feast of the Immaculate Conception of Mary)
December 24 to 27, 2020 (Christmas weekend)
December 30, 2020, to January 3, 2021 (Rizal Day and New Year weekend)
For those who plan to skip vacation and work instead, expect additional pay as follows from the Department of Labor and Employment.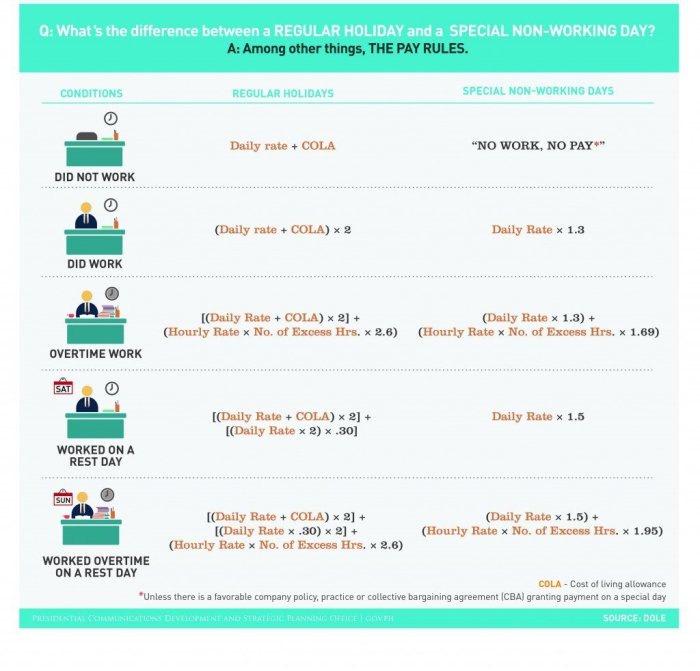 Planning a vacation or just expecting more compensation? Bookmark this page for your reference the whole year-round.