The Department of Social Welfare and Development (DSWD) has announced that they are preparing to distribute the cash aid this week for 5 million low-income families who are waitlisted for the 1st and 2nd tranche of Social Amelioration Program (SAP).
Just last week, 1.3 million Pantawid Pamilyang Pilipino Program (4Ps) devisees were the first ones to acquire their benefits. In her interview with CNN Philippines, DSWD spokesperson Irene Dumlao revealed that those who were left out have not received any support since the state-run agency started the issuance of SAPs.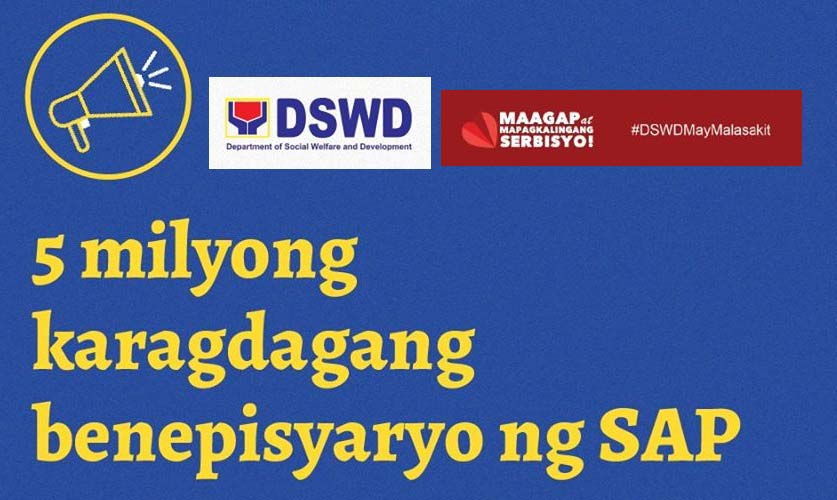 The lists of additional recipients were validated by the Local Government Units (LGU) as a part of the regulations in the implementation of the emergency subsidy program. This is also to make sure that the names on the list were not part of other programs executed by various government agencies.
""This week, we will start with the distribution ng first tranche and second tranche para doon sa mga waitlisted o yung mga additional beneficiaries na hindi po nakatanggap ng ayuda mula nung una tayong nagpahatid ng SAP," Social Welfare spokesperson Irene Dumlao told CNN Philippines' Newsroom Weekend."
It is the administration's response to help the vulnerable households who are affected by the COVID-19 pandemic hence, amelioration cards were given to helpless sectors like senior citizens, pregnant women, distressed OFWs, persons with disabilities, solo parent and homeless people as the main priority.
However, DSWD got a lot of complaints from the people who think that they are also eligible for the cash subsidies. This is the reason why the Department of Interior and Local Government (DILG) instructed the LGUs to identify the indigent families.
Under the Bayanihan to Heal as One Act, those who are qualified will receive Php 5000 to Php 8000 depending on the minimum wage of areas that they work. When the Enhanced Community Quarantine (ECQ) was imposed in the country, most businesses were forced to shut down to prevent the spreading of the novel coronavirus. In a result, many Filipinos are now unemployed and were finding a way for another source of income.
Dumlao then stated that before the month ends, they will be able to finish the dispensation of SAPs through the online cash relief system at www.reliefagad.ph to accelerate the delivery and avoid delays.
A beneficiary can choose the mode of payment via GCash, PayMaya, or cash as long as he/she will put the necessary details. They also won't have to worry since it has data privacy and protection.
For those who don't have mobile phones and internet access, they can ask an LGU member for manual encoding. GCash President Martha Sazon released a statement that by using their platform, it will not only be secure and convenient but also reduces the risk of having the deadly virus. They also guarantee that the money will go straight to the receivers.
Reference: CNN Philippines